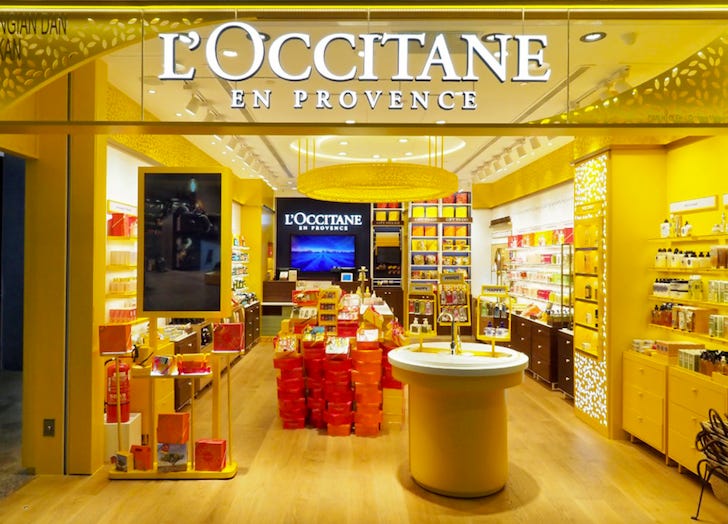 L'Occitane (973 HK)
Cosmetics giant at half the peer group multiple, despite a fast-growing hidden asset
Disclaimer: Asian Century Stocks uses information sources believed to be reliable, but their accuracy cannot be guaranteed. The information contained in this publication is not intended to constitute individual investment advice and is not designed to meet your personal financial situation. The opinions expressed in such publications are those of the publisher and are subject to change without notice. You are advised to discuss your investment options with your financial advisers, including whether any investment suits your specific needs. From time to time, I may have positions in the securities covered in the articles on this website. Full disclosure: I do not hold a position in L'Occitane at the time of publishing this article. To reiterate, this post and the below presentation are for informational and educational purposes only - not a recommendation to buy or sell shares.
---
L'Occitane (973 HK - US$4.6 billion) is a Hong Kong-listed French cosmetics brand focusing on skincare products.
The company was founded in the 1970s by Olivier Baussan. He wanted to use natural, organic ingredients from his home province of Provence to produce personal care products. The word "Occitan" refers to the culture of Provence, suggesting deep ties to the region.
In the early 1990s, Austrian businessman Reinold Geiger took control of L'Occitane and helped the brand become an international phenomenon.
Today, L'Occitane has almost 1,400 stores worldwide. The biggest target markets are the United States, Japan and China. The products sold in the store span body care, face care, hair care, and fragrances.
What are the most popular products? "Shea Butter Hand Cream" for dry hands and "Immortelle Precious Cream", used to smooth out wrinkles.
The main brand, "L'Occitane en Provence", is mature. The business is growing in the mid-single digit range and - in my view - limited pricing power.
While some capex has been reinvested in the main business, free cash flow has also been used for acquisitions. Unfortunately, many have been made at high prices, causing goodwill to accumulate on the sheet. And the return on equity has gradually come down to about 10%.
But since 2018, there have been signs of improvement. The company introduced a new corporate strategy called "Pulse", which emphasised employee incentives and a decentralised organisation. While some employees complain that the company has become greedy and money-focused, that may not be a bad sign for shareholders.
Since 2022, L'Occitane also has a new CFO called Christian-Matthias Klever, with an incredible resume, including being CFO of Breitling when well-regarded private equity firm CVC owned it. The previous CFO, Thomas Levilion, had been with the company since 2008.
Watch with a 7-day free trial
Subscribe to
Asian Century Stocks
to watch this video and get 7 days of free access to the full post archives.